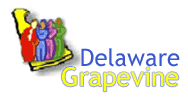 Posted: Sept. 27, 2016
A JUDICIARY THAT LOOKS MORE LIKE DELAWARE
By Celia Cohen
Grapevine Political Writer
Jim McGiffin has been nominated to be a judge on the Delaware Family Court, and his confirmation by the state Senate is really a no-brainer.
McGiffin is a state Senate attorney, one of the upper chamber's own. Not only that, the confirmation vote is set for a special session on Oct. 13, less than a month before the election, when the state senators generally would rather not attract attention to themselves but just whistle past the voters.
McGiffin is in line for a Democratic seat on the Family Court in Kent County due to the retirement of Bill Walls, who is the last judge guaranteed to leave before the political calendar strikes eight years on Jack Markell, the Democratic governor, and the state constitution says he has to go.
It has fallen to Markell to execute an extreme judicial makeover.
He appointed or reappointed four-fifths of the state judiciary because of an unusual number of retirements, most notably by Myron Steele, who was the chief justice, the upward mobility that followed, and the natural expiration of 12-year terms.
Markell took the opportunity to shift the makeup of the judiciary toward looking more the demographics of Delaware as a whole.
He did not get it all the way there, but he made serious progress to reflect a state that statistics from the U.S. Census say is the home of about 946,000 people, whose composition is 52 percent female/48 percent male and 63 percent white/37 percent minority.
When Markell took office in January 2009, the state's 56 judgeships were 79 percent male/21 percent female and 89 percent white/11 percent minority.
Now in Markell's final year, the state's 58 judgeships -- two Superior Court seats were added -- are 62 percent male/38 percent female and 83 percent white/17 percent minority. The most dramatic change was the Family Court, which flipped from 11 men and six women on the bench in 2009 to six men and 11 women today, if McGiffin's pending appointment is included.
Naturally the political balance of the courts has barely budged.
The state constitution requires the judgeships to be divided between Democrats and Republicans, and although Markell and the Democrats who run the state Senate have put a partisan thumb on the judicial scales where they can, the constitutional check protects the political balance.
COURTS

MEMBERS

COMPOSITION

Supreme

2009

Steele, chief justice

Berger, Holland, Jacobs, Ridgely

men/women:

4-1

white/minority:

5-0

Dem/Repub:

3-2

Supreme

2016

Strine, chief justice

Holland, Seitz, Valihura, Vaughn

men/women:

4-1

white/minority:

5-0

Dem/Repub:

3-2

Chancery

2009

Chandler, chancellor

Lamb, Noble, Parsons, Strine

men/women:

5-0

white/minority:

5-0

Dem/Repub:

3-2

Chancery

2016

Bouchard, chancellor

Glasscock, Laster, Montgomery-Reeves, Slights

men/women:

4-1

white/minority:

4-1

Dem/Repub:

3-2

Superior

2009

Vaughn, president judge

Ableman, Babiarz, S. Bradley, Brady, Carpenter, Cooch, Graves, Herlihy, Johnston, Jurden, Parkins, Scott, Silverman, Slights, Stokes, Toliver, Witham, Young

men/women:

15-4

white/minority:

17-2

Dem/Repub:

9-10

Superior

2016

Jurden, president judge

S. Bradley, Brady, Butler, Carpenter, J. Clark, Cooch, E. Davis, Graves, Johnston, LeGrow, Medinilla, Parkins, Rocanelli, Scott, Stokes, Streett, Wallace, Wharton, Witham, Young

men/women:

14-7

white/minority:

18-3

Dem/Repub:

10-11

Family

2009

Kuhn, chief judge

Buckworth, Chapman, Conner, Coonin, Cooper, Coppadge, Crowell, Henriksen, Hitch, Jones, Millman, Newell, Nicholas, Pyott, Walls, Waserstein

men/women:

11-6

white/minority:

15-2

Dem/Repub:

9-8

Family

2016

Newell, chief judge

Buckworth, Coonin, Coppadge, Crowell, Haskins, Hitch, Jones, Kerr, Millman, Ostroski, Pyott, Ranji, Ryan, Vari, Waserstein

McGiffin (pending)

men/women:

6-11

white/minority:

14-3

Dem/Repub:

9-8

Common Pleas

2009

Smalls, chief judge

Beauregard, W. Bradley, K. Clark, Flickinger, James, Trader, C. Welch, J. Welch

men/women:

8-1

white/minority:

7-2

Dem/Repub:

5-4

Common Pleas

2016

Smalls, chief judge

Beauregard, K. Clark, Danberg, Reigle, Rennie, Surles, C. Welch, J. Welch

men/women:

7-2

white/minority:

6-3

Dem/Repub:

5-4

Justice of the Peace

2009

A. Davis, chief magistrate

men/women:

1-0

white/minority:

1-0

Dem/Repub:

1-0

Justice of the Peace

2016

A. Davis, chief magistrate

men/women:

1-0

white/minority:

1-0

Dem/Repub:

1-0

TOTALS

2009

56 judges

men/women:

44-12

white/minority:

50-6

Dem/Repub:

30-26

TOTALS

2016

58 judges

men/women:

36-22

white/minority:

48-10

Dem/Repub:

31-27
Source: Governor's Office of Boards & Commissions; Administrative Office of the Courts
###