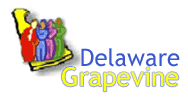 Posted: Aug. 17, 2016
MONEY TALKS, AND IT MIGHT ALSO BE GIGGLING
By Celia Cohen
Grapevine Political Writer
It turns out John Daniello knew what he was talking about.
Daniello, the Democrats' wanna-make-sumthin-of-it state chair, stirred up a lot of stuff about a month ago when he groused there were too many frivolous candidates running in primaries -- and they knew who they are -- and they ought to get out while the getting was good.
Almost nobody did.
Now the campaign finance reports for statewide candidates are in, about a month in advance of Primary Day in Delaware on Sept. 13, and guess what? They exposed a bunch of candidacies so woefully under-funded, they could not bring out the vote for ice cream on a hot summer day.
Well, it is a free country. They can run and they can let Daniello say he told them so.
The magic number generally cited by political operatives for running a solid statewide campaign is upwards of $250,000, closer to $500,000, and only a few candidacies even came close, namely, Bethany Hall-Long and Kathy McGuiness, two of the Democratic candidates for lieutenant governor, and Karen Weldin Stewart, the Democratic insurance commissioner.
Some of the candidates -- McGuiness included -- resorted to loaning their campaigns tens of thousands of dollars of their own money to prop themselves up.
Not everyone had to file before the deadline Tuesday at midnight. The ones who do not have primaries -- that would be John Carney, the Democratic candidate for governor, and La Mar Gunn, the Republican candidate for lieutenant governor -- were exempt. So were all of the congressional candidates, because the finance reporting for federal office is on a different schedule.
By the way, Carney had already pulled in more than a half-million dollars in contributions by the end of 2015, the last time he had to file a finance report. True, his seventh statewide campaign -- after three for congressman, two for lieutenant governor and one failed primary for governor -- had better be charm, or else.
The finance reports essentially sorted the candidates into three types, the ones hanging in there, the ones on a wing-and-a-prayer and the ones who are nowhere.
Hanging in there: Hall-Long, McGuiness and Stewart.
On a wing-and-a-prayer: Colin Bonini, Republican for governor; Ciro Poppiti, Democrat for lieutenant governor; and Trini Navarro, Democrat for insurance commissioner.
Nowhere: Lacey Lafferty, Republican for governor; Brad Eaby, Greg Fuller and Sherry Dorsey Walker, Democrats for lieutenant governor; and Jeff Cragg and George Parish, Republicans for insurance commissioner.
In politics, money talks. With these numbers, it can also trash-talk, for sure.
| | | | | | | |
| --- | --- | --- | --- | --- | --- | --- |
| Candidate | Office | Party | Total Contributions | Self-loans | Total | Balance |
| Bonini | Governor | R | $96,339 | $60,000 | $156,339 | $66,895 |
| Lafferty | Governor | R | $12,967 | $86,546 | $99,513 | $4,385 |
| Eaby | Lt. Governor | D | $36,741 | $23,379 | $60,120 | $7,770 |
| Fuller | Lt. Governor | D | $41,001 | $2,500 | $43,501 | $7,615 |
| Hall-Long | Lt. Governor | D | $214,540 | 0 | $214,540 | $105,389 |
| McGuiness | Lt. Governor | D | $249,199 | $50,645 | $299,844 | $87,545 |
| Poppiti | Lt. Governor | D | $110,268 | $55,000 | $165,268 | $37,502 |
| Dorsey Walker | Lt. Governor | D | $33,873 | 0 | $33,873 | $4,379 |
| Stewart | Ins. Commissioner | D | $192,761 | 0 | $192,761 | $47,396 |
| Navarro | Ins. Commissioner | D | $56,140 | $5,000 | $61,140 | $31,632 |
| Cragg | Ins. Commissioner | R | $5,700 | 0 | $5,700 | $763 |
| Parish | Ins. Commissioner | R | $13,589 | 0 | $13,589 | $444 |
Incumbents in bold
Source: Campaign finance reports
###