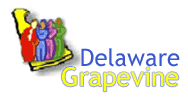 Posted: Jan. 20, 2016; updated: Jan. 21, 2016
A FIRST LOOK AT CAMPAIGN FINANCE
By Celia Cohen
Grapevine Political Writer
Money is the first primary.
For the statewide candidates running here in Delaware, it is like Iowa or New Hampshire for presidential candidates. The campaign finance reports they file can create make-or-break impressions, as success chases money and money chases success.
The first round of reports for the candidates running for the four statewide offices up this year -- governor, lieutenant governor, the congressional seat and insurance commissioner -- is coming in now. The reports were due Jan. 20 for state races with the election commissioner's office but not until the end of the month for federal races with the Federal Election Commission.
The early winners are the ones showing they could bring in six figures in contributions by Dec. 31.
Not surprisingly, John Carney blew away everyone else. This is what happens when someone is not only the front-runner for governor but a seasoned statewide campaigner as the current Democratic congressman and past lieutenant governor.
Not to mention Carney also had that unsuccessful primary race for governor against Jack Markell in 2008, when Carney was on the wrong end of learning what superior financial power can do.
This time around, Carney has already brought in more than a half-million dollars in contributions, including ones from Nancy Pelosi, the Democratic minority leader in the U.S. House Representatives, and Ruth Ann Minner, who was the Democratic governor when he was the lieutenant governor.
There is also a curious little loan on Carney's report, although it is actually not much more than a loan in name only. What happened was Carney's dormant congressional campaign "lent" his gubernatorial campaign a voter file, fund-raising list and office equipment worth $5,320.
Among the other candidates, Kathy McGuiness topped $100,000 in contributions for the Democratic primary for lieutenant governor, and Bryan Townsend recently put out a press release saying his report, when it is filed, will show he collected $212,000 for the Democratic primary for the congressional seat.
The reports also expose the vanity candidates -- like Rose Izzo, a Republican who is a serial candidate for the congressional seat, and Paul Gallagher, a Democrat whose only financial activity was lending himself the money to file for insurance commissioner.
Not that the finance reports necessarily tell all there is to know about the candidates' campaign finances, as is the case with Colin Bonini, the Republican state senator running for governor. Bonini also has a PAC that spent more than $64,000 in 2015 and ended the year with more than $33,000 still available.
Still, they tell a lot.
| | | | | | | |
| --- | --- | --- | --- | --- | --- | --- |
| Office | Party | Candidate | Balance | Contributions | Expenditures | Loans |
| Governor | D | Carney | $449,404 | $505,066 | $60,982 | $5,320 |
| Governor | R | Bonini | $29,590 | $37,925 | $33,335 | $25,000 |
| Governor | R | Lafferty | not filed | | | |
| U.S. House | D | Barney* | $78,000 | $81,000 | | |
| U.S. House | D | Rochester | Due Jan. 31 | | | |
| U.S. House | D | Short** | $71,783 | $$71,913 | $130 | |
| U.S. House | D | Townsend*** | | $212,000 | | |
| U.S. House | R | Izzo | $16 | $17 | $17 | $12,888 |
| U.S. House | R | Reigle | $36,082 | $51,179 | $23,542 | $8,452 |
| Lt Governor | D | Eaby | $14,123 | $30,409 | $32,058 | $15,772 |
| Lt Governor | D | Fuller | $18,539 | $29,577 | $13,538 | $2,500 |
| Lt Governor | D | Hall-Long | $84,509 | $93,471 | $8,962 | |
| Lt Governor | D | McGuiness | $111,618 | $123,315 | $37,397 | $25,700 |
| Lt Governor | D | Poppiti | $76,692 | $37,220 | $15,528 | $55,000 |
| Lt Governor | D | Dorsey Walker | $11,799 | $11,812 | $16 | |
| Lt Governor | R | No candidates | | | | |
| Ins Commissioner | D | Gallagher | 0 | 0 | $4,361 | $4,361 |
| Ins Commissioner | D | Navarro | $11,849 | $11,870 | $21 | |
| Ins Commissioner | D | Stewart | $83,789 | $84,158 | $14,638 | |
| Ins Commissioner | R | Parish | $11,263 | $11,905 | $642 | |
Incumbents in bold
*Barney announced his balance and contributions in a press release but has not filed a report
**Short's report as of Sept. 30, 2015
***Townsend announced his contributions in a press release but has not filed a report
Source: Campaign finance reports
###